This Date in Washington Senators History – Myatt goes 6 for 6
May 1
1901 – The Senators, after bolting to a 4-0 start, suffer their 1st American League defeat. The opponent was none other than the John McGraw led Baltimore Orioles, the forerunners to the Yankees. The Orioles take a 6-4 win in Washington. The Senators would complete their inaugural season with in 6th place with a record of 61-72 under manager Jim Manning. It would be Manning's first and last managerial job.
1925 – The defending World Champion Senators improve to 10-3 with a 9-4 victory over Philadelphia. The significance of this game? This game marked the debut of a 17 year old kid by the name of Jimmie Foxx. Foxx hit a pinch single in his debut. Tom Zachary was the Senators winning pitcher.
1927 – Rookie Hod Lisenbee shutouts the Red Sox 6-0 in his first major league start at Griffith Stadium. Lisenbee would compile an 18-9, 3.57 ERA for the 1927 Senators. Lisenbee would never approach those numbers again, as injuries and ineffectiveness curtailed his career. In one of the Senators best trades, Lisenbee was shipped to the Red Sox after the 1928 season in multi player deal that netted Washington Buddy Myer again, an important player for the 1933 pennant winning Senators.
1944 – At Boston, Sens 2B George Myatt goes 6 for 6 in Washington's 11-4 rout of the Red Sox. Myatt began his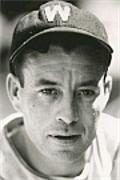 career in the NL with the NY Giants in 1938 before the Cardinals purchased his contract before the 1941 season. Myatt did not play a game for the Cards in two seasons and was left unprotected in the the 1942 Rule 5 draft, where Washington selected him. His best season as a Senator was in 1945 when he placed 5th in the AL MVP voting.
After Myatt's playing days ended in 1947, he would go on to a coaching and managing career in the minors and majors. Myatt's only major league managerial position occurred when he succeeded Gene Mauch as the Phillies manager during the 1968 season. A rocky relationship with mercurial Phils star Dick Allen and a 19-35 start in 1969, would eventually seal Myatt's fate as the Phils skipper.
Senators Birthdays
David Austin (Del) Howard B May 1, 1889 D Jan. 26, 1956
Washington, DC native Dave Howard's only game with the Washington Senators came on May 8, 1912. He is credited with 1 run scored and no official at bats. Howard would resurface in 1915 with the Brooklyn Tip-Tops of the Federal League, where he appeared in 24 games at second and third base and as an outfielder.