This Date in Washington Senators History – Happy Birthday Joe Judge
May 25
1908 – An unusual occurrence happens in today's game in the nation's capital. Detroit scores an unearned run in the 3rd against Sens P "Sleepy" Bill Burns, but do not collect a hit until there are 2 out in the 9th inning. The future middle man in the 1919 World Series fix, "Sleepy" Bill drops the 1-0 decision.
1911 – Ty Cobb raps 2 hits of Walter Johnson, but the "Big Train" and the Senators hand the Tigers a 6-2 defeat.
1912 – Johnson breaks the jaw of New York SS Jack Martin with a fastball. Martin will be out of action for 5 weeks. Meanwhile, the Senators drop 2 to the woeful Highlanders 6-3 and 9-5 at Hilltop Park.
1919 – Looking to add insurance runs to a 4-3 lead in the top of the 8th inning at Chicago, Sox CF Happy Felsch starts a triple play to halt a potential big inning by the Sens. In the home half of the 8th, Chicago scores 2 runs off Walter Johnson to win 5-4.
1924 – Another losing season appears set as the Sens drop a frustrating 10-9 loss to Chicago in D.C. The Senators now sit in 6th place, at 13-17, 5.5 GB 1st place co-holders New York and Boston. It appears that the squad is not responding to new player/manager Bucky Harris and a change may be imminent if the team does not turn it around soon.
1926 – The Senators out slug the Athletics 17-12 in the opener of a doubleheader in Philadelphia, scoring 11 runs in the 5th. Philadelphia's Mickey Cochrane's 3 run homer in game 2 is the difference as the Senators are edged 7-6.
1944 – On Mel Harder Appreciation Night in Cleveland, the Nats prove to be inhospitable guests as they down Harder and the Indians 4-2. Mickey Haefner picks up the win for Washington.
1965 – In Washington, Ken McMullen, Jim King and Ken Hamlin's homers pace the Senators to a 7-3 victory over the L.A. Angels. In the second match of this twinbill, the Sens hold on for 6-5 win. Frank Howard homers and drives in 2, while Ed Brinkman knocks in 3 for the Sens.
Senators Birthdays
Joseph Ignatius Judge B May 25, 1894 D Mar. 11, 1963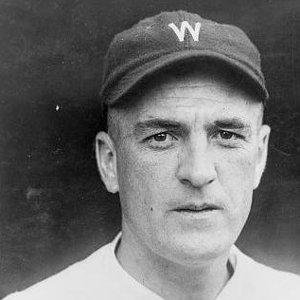 Brooklyn-born first baseman Joe Judge would appear in his first game with the Senators in September of 1915. From 1916 through 1930 Judge would be a fixture at first base for Washington appearing in over 100 games a season.
udge stood 5′ 8.5″ tall, certainly not typical for a first baseman. However, he led the American League 5 times in fielding average. In 1922 Washington set a then major league record by completing 161 double plays.
Judge was also an excellent hitter-he hit over .300 for 9 seasons while playing for the Senators, his best year 1920 when he hit .333. While never much of a long ball threat (playing half your games in spacious Griffith Stadium would do that to a guy) he finished his career with 2,352 hits, including 433 doubles, 159 triples and 71 home runs.
Playing for the World Championship team of 1924, Judge hit .385 in the World Series. In 1925 his series average dropped but he did manage a home run against the Pittsburgh Pirates.
After playing for the Senators from 1915-1932, Judge was on the roster of the Brooklyn Dodgers for 42 games in 1933, finishing the season with the Boston Red Sox. 10 more games with the Red Sox in 1934, when he still hit .333 ended his career. A disciplined hitter, Judge would have 7,898 AB in his 20 year career with only 478 strike outs, an average of 1 strike out per 16.5 AB.
For an in-depth writeup on Joe Judge:
A recently (2004) published book titled "Damn Senators: My Grandfather and the Story of Washington's Only World Series" by his grandson, Mark Gauvreau Judge is an excellent reference.
James Norman Riley B May 25, 1895 D May 25, 1969
Jim Riley got to sample the major league coffee twice-once in 1921 when he appeared in 4 games for the St. Louis Browns as a second baseman, and again in 1923 when he appeared in 2 games for the Washington Senators. In 14 AB in the majors, Riley had no hits and 1 run scored.