Mickey Vernon's Special Day
On May 27, 1954, President Dwight D. Eisenhower sets aside four hours to attend a special baseball "Mickey Vernon-Red Cross Day" game that afternoon at Griffith Stadium. What made this game a special game for the 34th President of the United States of America, was that he was there to present his favorite ball player Mickey Vernon a Silver Bat.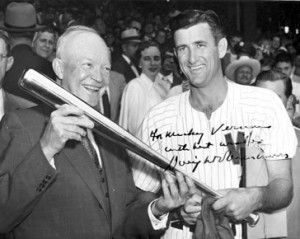 Before the New York Yankees and Washington Senators game was to start President Eisenhower presented the Senators' first baseman with the Silver Bat. The Silver Bat was awarded to Mickey Vernon for winning the 1953 American League Batting Title. In 1953, Mickey Vernon, with a batting average (.337) won his 2nd batting title when he edged out the Cleveland Indians' Al Rosen, who ended the year with a (.335) average.
From everything I have read on this subject I believe President Eisenhower was as excited to give the award to Mickey Vernon, as Vernon was excited to receive it from the Commander and Chief of the free world. FYI – The Senators scored six unearned runs as they went onto beat the Yankees 7-3.