This Date in Washington Senators History – Goose Goslin is traded
June 13
1905 – Chicago easily disposes of the Nats, 7-0. Sox RHP Frank Owen not only collects the win and shutout. He also steals home in the top of the 8th, Owen's 2nd, and final, stolen base of the year. Strangely, both stolen bases are swipes of home and both happen to occur against the Nats.
1917 – The Senators sell .222 hitting OF Elmer Smith back to Cleveland. Smith will have a career year with the 1920 World Series winning Tribe, when he hits .316 with 103 ribbies.
1921 – Washington skipper George McBride summons Walter Johnson to come in to the game in relief. The hometown Tribe proceeds to rough up the sore armed Big Train, as 1st place Cleveland rolls to a 10-6 victory.
1930 – In one of the best trades in Nats history, original and expansion versions included, the Nats trade OF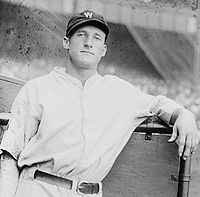 Goose Goslin to the Browns for OF Heinie Manush and LHP Alvin "General" Crowder. Manush, a future HOF, and Crowder will become instrumental parts of Washington's 1933 pennant winning team. Goslin, another Hall of Famer, will be reacquired from St. Louis after the 1932 season and will play a role on the 1933 team as well.
1943 – The Nats rap 18 hits and rack up 16 runs to win a 16-5 laugher over Boston in Fenway. Red Sox, and former Sen pitcher, Ken Chase greatly assists his former mates by issuing 11 bases on balls. Boston gains a measure of revenge in the finale of this doubleheader by easily shutting out Washington, 7-0.
1971 – And some people believe that Barry Bonds was a terrible presence in the clubhouse. Bonds would have some stiff competition in that category from Alex Johnson. During the Sens 5-2 victory over California in Anaheim, California's Chico Ruiz allegedly pulls a gun on the mercurial Johnson during an altercation after both players have left the game. Ruiz denies that the incident happened, while Johnson adamantly claims that Ruiz threateningly waved a gun at him. Nonetheless, the incident makes national news and the press makes Johnson the villain.
While this is not Senator related, here is a SABR biography link on Alex Johnson: http://bioproj.sabr.org/bioproj.cfm?…d=649&pid=6979
Senators Birthdays
George Dueward Foss B Jun. 13, 1897 D Nov. 10, 1969
George Foss appeared in 4 games for the Senators in 1921, going 0-7 at bat.
Carl Lynwood Mathias B Jun. 13, 1936 Still Living
Pitcher Carl Mathias first arrived in the majors with the Cleveland Indians in 1960 where he appeared in 7 games going 0-1 with a 3.52 ERA.
He was selected by the "new" Senators in the expansion draft. Appearing in 4 games for Washington in 1961, he posted an identical 0-1 record, however his ERA ballooned and he was sent to Rochester in July to never appear in another major league game.
Emilio Antonio Palmero B Jun. 13, 1895 D Jul. 15, 1970
Emilio Palmero appeared with 4 different teams in 5 seasons over the course of 14 years and only played in 47 major league games during that entire span.
Starting with the New York Giants in 1915 where he appeared in 3 games, he would return with the Giants in 1916 for another 5 games.
His major league service then took a hiatus until he resurfaced with the 1921 St. Louis Browns where he appeared in 29 games.
He would take another break until 1926 when he appeared in 7 games for the Washington Senators.
Finally, he would cap off his major league service with 3 games for the 1928 Boston Braves.
Possibly Palmero's "best" season was his short 1926 stint in Washington when he posted a 2-2 record.
Fred Peter Scheuerholz (Played as "Fred Sherry") B Jun. 13, 1889 D Jul. 27, 1975
Fred Sherry spent two months with the Senators in 1911. A pitcher, he posted an 0-4 record, appearing in 10 games, pitching 52.1 innings.
Albert Clyde (Chief) Youngblood B Jun. 13, 1900 D Jul. 6, 1968
Another pitcher with a very short stay in Washington, Chief Youngblood appeared in 2 games with the 1922 Senators, hurling 4.1 innings. He departed with a 0-0 record and an ERA of 14.54.