The Great Bambino knocked out cold
It was always a special time in D.C. when Babe Ruth and the New York Yankees came to town to play the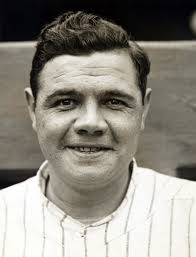 Washington Senators. The fans in the Nation's Capital came out in droves to Griffith Stadium in hopes to witness one of Ruth's mammoth home runs. One of those mammoth home runs took place on May 7, 1921 when Ruth knocked a Walter Johnson fastball over the tall center field wall.
During his baseball career Ruth hit 34 home runs at Griffith Stadium. On more than one occasion Ruth would send the ball out of Griffith Stadium into the cluster of trees that were located on the other side of the right field wall.
It was not uncommon for Ruth to knock the cover off of the ball at Griffith Stadium, what was uncommon was the day Griffith Stadium knocked out the great Babe Ruth. On July 5, 1924 the Washington Senators first baseman Joe Judge hit a fly ball to right field, Ruth ran as hard as he could after the ball that was slicing foul, before Ruth got to the ball he got knocked out when he ran into the concrete wall. There he was the Great Bambino knocked out cold for five minutes. The Babe recovers after Yankees' trainer Doc Woods pours some cold water on his face. The next day in the top of 8th inning Ruth gets his revenge when he hits his 22nd home run of the season off of Senators' pitcher Joe Martina.
On September 29, 1934 Babe Ruth hits his last home run in Griffith Stadium when in the top of the 7th inning he hit a three run home run off of the Senators' Syd Cohen. The last memorable moment for the Sultan of Swat at Griffith Stadium came on September 30, 1934. For Ruth this day was one of his saddest days of his storied career as it is the last game Ruth will ever play as a member of the Yankees. Before the game the Senators honored Babe Ruth with a ceremony where they gave him gifts and a chance to speak to the crowd at Griffith Stadium. The Babe's last at bat as a Yankee was a fly out to the center field.