This Date in Washington Senators History – Bob Ganley scores 5 runs
July 17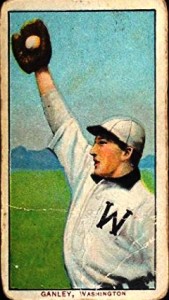 1907 – Nats OF Bob Ganley scores 5 runs as Washington tames the Tigers, 13-2, in the Motor City.
1914 – Leading hitter Clyde Milan suffers a broken jaw from a outfield collision with teammate Danny Moeller at Cleveland. "Deerfoot" Milan will miss 40 games. The Indians add insult to injury with a 3-1 triumph.
1940 – Gee Walker's 4 hits helps the Senators to defeat visiting Chicago, 5-3. The hot corner proves to be too hot for Chicago 3rd sacker Eric McNair. McNair greatly assists Washington's cause by committing an AL record tying 4 errors.
1960 – Losers of 10 in a row to Cleveland, the guest Nats finally solve the riddle of the Tribe, as well as loser Mudcat Grant, in a 3-2 win. Grant had come into this contest with a lifetime 14-0 mark against the Sens. Bob Allison drives in 2 RBI in the second match, another victory for Washington, 5-3.
Senators Birthdays
James Marbury (Sammy) Holbrook B Jul. 17, 1910 D Apr. 10, 1991
One Season Wonder Sammy Holbrook spent the 1935 season with the Senators, appearing in 52 games. A catcher, Holbrook would go 35 for 135 at the plate, working out to a .259 BA. He managed 2 doubles, 2 triples and 2 homers in those plate appearances. Holbrook would be gone from the Senators, and the majors, after late September of 1935.