Hansen's Unassisted Triple Play
July 30, 1968
On a hot evening at Cleveland Stadium the 5,937 fans in attendance witnessed a baseball rarity. In the bottom of the 1st inning the Cleveland Indians had runners on 1st and 2n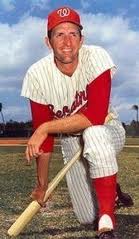 d base when Joe Azcue lined a ball to the Washington Senators shortstop Ron Hansen. Before anyone knew what had happened Hansen recorded an unassisted triple play.
Ron Hansen's unassisted triple play was the first one in the Major Leagues in 61 years, at the time it was the 8th in Major League History. Ron and the Senators did not get to celebrate too much as the Indians went onto punish the Senators by a score of 10–1. In fact Ron Hansen may not have celebrated at all after he struck-out all fours times he batted and committed his 17th error of the season in the 7th inning.
The next day Hansen's batting average dropped to a season low of .182 after he went zero for two at the plate with two more strikeouts. On
August 1st Hansen's luck would change when he hit a 4th inning Grand Slam off of the Tigers' pitcher Pat Dobson.
Once again Hansen's celebration was short lived as the Washington Senators informed him the next morning that
they traded him to the Chicago White Sox for Tim Cullen. What made this trade so interesting is that these two players were traded for each other earlier in the year.
On February 13, 1968 the Washington Senators traded Tim Cullen, Buster Narum, and Bob Priddy to the White Sox for Dennis Higgins, Steve Jones, and Ron Hansen. When Cullen and Hansen were swapped for each other on August 2, 1968 it was the first time in Major League Baseball history two players were traded for each other twice in the same year. This story was first published on July 30, 2008.