Washington needs sports stars like Howard, Zimmerman
Marty Niland
July 30, 2017 was a day Nationals fans should long remember.
On that sunny Sunday afternoon, they got to celebrate a baseball milestone along with two men who became stars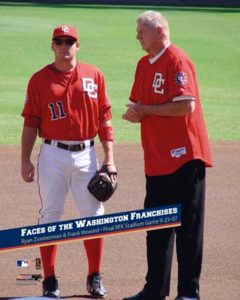 at times when their teams and fans needed it.
In the third inning of the Nats' 10-6 loss to the Colorado Rockies, Ryan Zimmerman sent a fly ball over the right field fence and into the Nats bullpen for his 238th career homer, surpassing Frank Howard for the most ever hit by a player in a Washington uniform. He later hit a solo shot to further distinguish himself.
At first glance, there may not seem to be many similarities between Zimmerman and Howard, who played for the expansion Senators from 1965 until the team moved to Texas following the 1971 season.
Standing 6-foot-7 and weighing as much as 300 pounds during his career, Howard was a dominating presence in the batter's box and the dugout. His homers were notable not only for the frequency (he hit 10 in a span of six straight games in 1968, at the time, a major league record) but their majesty. Several seats in the upper deck of RFK Stadium were painted white to mark the landing spots for Howard's mammoth shots.
Zimmerman, at 6-3 and 225 pounds, does not have Howard's dominating physical presence, and his homers are more noted for their timing. Zimmerman has earned the nickname of Mr. Walkoff by hitting ten game-ending home runs, the most among any active player and third most in National League history. Many have come on memorable dates: Father's Day 2006 against the New York Yankees; July 4, 2006 against the Florida Marlins; and March 30, 2008, against Atlanta, in the first regular-season game at Nationals Park.
The ability to hit memorable home runs is not the only thing the two men have in common, though. Both gave the Washington area and its baseball fans a lift when it was most needed. The expansion Senators were among the worst teams in baseball following the 1964 season, when they traded Claude Osteen, John Kennedy and cash to the Los Angeles Dodgers for Howard, the 1960 National League Rookie of the Year, and three other players. He would go on to become a hometown hero during an era when the city was marred by antiwar protests, civil unrest, and ultimately, the team's departure following the 1971 season.
They improved slightly each year after Howard arrived, but his presence in the lineup, and the anticipation of a soaring homer, brought fans out to see what was otherwise a dismal ballclub, finishing with a losing record every tear until 1969. That year, when Hall-of-Famer Ted Williams came to manage the Senators, he taught Howard to take a walk, and Howard responded with the best year of his career, a .296 average, 48 homers and 111 RBI to go with 102 walks. He played in the All-Star game in front of his hometown fans, hitting one of his trademark homers against Steve Carlton, a future member of the Hall of Fame.
Likewise, Zimmerman arrived at a trying time when the area and its fans needed someone to root for. The Nationals organization had essentially been gutted by the time it moved from Montreal. As the Nationals' first draft pick from the University of Virginia, Zimmerman had high expectations to meet, and he shouldered the burden admirably. He spent just one season in the minor leagues, and as a September call-up hit .397 in 20 games. It was a bright spot during a month when a once-surprising team fell out of playoff contention to last place in the NL East.
For the next five seasons, he was often the only star on a team that never had a winning record and never finished higher than fourth in the National League East. A solid, constant presence in the lineup, he averaged 138 games per season and totaled 128 homers and 492 RBIs in that span, earning an All-Star nod in 2009.
In the past five seasons, Zimmerman has seen some unfortunate injuries limit his playing time, but he's been fortunate to have teammates to pick him up. He's been a part of teams that have won three division titles and contended for two more. Now, healthy again, he's a statistical leader and now a record setter on what may become the best Nationals team ever.