Washington Nationals Baseball Club was granted a "Class D" license to sell beer at Griffith Stadium
Sixty years ago marked a turning point in the history of the original Washington Nationals franchise. No, they didn't trade away a player who would go on to be the MVP of the American League (See: Jackie Jensen).
Although there may have been preliminary talks that weren't revealed, there was no mention of a possible relocation of the franchise to Minneapolis.
On August 9, 1956, the Washington Nationals Baseball Club was granted a "Class D" license to sell beer at Griffith Stadium by the D.C. Alcoholic Beverage Control Board. The Class D license did not allow the Nats to sell wine or liquor – only beer, and only in an area where patrons could sit at tables. These tables, which were hastily installed, accommodated 170 patrons in the leftfield bleachers. After the license was approved, plans were made to expand the area called the "Beer Garden" to 500 patrons. Due to the proximity of the new tables to the playing field, and the possibility of alcohol-induced rowdyism, beer would be sold only in paper cups. In addition, the patrons of the Beer Garden would not be allowed to stand up with a cup of beer in their hands and cheer a great play or a home run. Violators would be severely reprimanded.
In anticipation of the Board's approval, Calvin Griffith had several rows of benches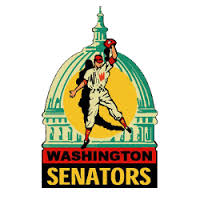 installed during the off-season. The original explanation was to make things easier for Washington's home run threats, Roy Sievers and Jim Lemon. The new confines were dubbed "Sieversville." Obviously, Calvin had other ideas.
For years, team owner Clark Griffith – an adamant prohibitionist – refused to entertain thoughts of selling alcoholic beverages in the stadium that bore his name. However, his prohibitionist stance didn't stop him from accepting large sums from the Old Georgetown Beer and the National Brewing Company for advertising at Griffith Stadium.
With the passing of the "Old Fox" less than a year before, Calvin was now free to make an effort to allow alcoholic beverages to be sold in the old ballpark.
The first beer was scheduled to be consumed on August 10, 1956. The approval to sell beer at Griffith Stadium left Philadelphia and Pittsburgh as the only remaining teams that still prohibited the sale of alcoholic beverages.