Connie Mack's Major League Debut
Cornelius Mack, also known as Connie Mack (catcher) made his major league debut on September 11, 1886 as a member of the Washington Nationals.
The Nationals didn't sign the 23-year old Mack because they needed a catcher. They signed Connie Mack to a contract because they needed a pitcher.In the summer of 1886 Washington Nationals owner Walter F. Hewitt went to Hartford to sign pitcher Frank Gilmore who was playing for Hartford of the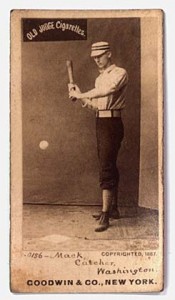 South New England League. Frank told Walter Hewitt that he would only sign with the Nationals if they would also sign his catcher Connie Mack. Hewitt did not want to sign the catcher because of his lack of hitting. When it was all said and done Hewitt agreed to sign both Gilmore and Mack.
With only a handful of games left in the 1886 season, Mack made the best of his opportunity by getting 13 base hits in only 10 games. The Nats were so impressed with the young catcher that they agreed to pay him $2,750 for the 1887 season.
Connie Mack; became a fan favorite due to the way he would distract the opponent's batters with his non-stop chatter behind the plate. Connie will play for the Nationals through the 1889 season. It was expected that Connie would play in Washington for the 1890 season. That was before Mack joined the Baseball Brotherhood a union of players. The union did not think the players were being compensated enough. In a drastic move the union created their own league "The Players League" that started play in 1890. This was in fact the end of the original Washington Nationals because all of the players followed Connie Mack to Buffalo and signed up to play for Buffalo in the new league.
Connie Mack's playing career will end in 1896, but he will go on to manage until 1950. Connie Mack is a member of the Major League Baseball Hall of Fame and still holds the major league records for the most wins 3,731 and losses 3,947 as a manager.