Beware of Bats and Balls
September 29, 1943
Washington D.C
At Griffith stadium the 2nd place Washington Senators (82-67) and the 3rd place Cleveland Indians (79-69) are scheduled to play a twi-night doubleheader.
During the first game the Senators held a 6-1 lead over the Indians. In the top of the ninth inning the Indians' third baseman Ken Keltner hit a grounder to the Senators' third baseman Sherry Robertson. The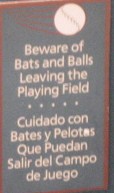 Senators' third baseman fielded the ball cleanly but his throw to first baseman Mickey Vernon sailed over his head and struck a fan "who was seated in the first row" in the head.
As the story goes the unlucky fan that was identified later as Clarence Stagemyer 32, a Civil Aeronautics Administration official, who lived in Alexandria, VA, at first showed no sign of being badly injured. A short while later the Senators' team physician convinced Stagemyer to go to a local hospital to be checked for a possible concussion.
At the hospital Stagemyer took a drastic turn for the worst. The baseball fan from Alexandria passed away in the early morning hours on September 30, 1943. Deputy Coroner Christopher Murphy declared the death as an accidental death due to fractured skull.
I am posting this story today to remember baseball fan Clarence Stagemyer and to hopefully remind fans to always keep your eyes on the field while you're at the game. You never know when a baseball bat or an errand throw or batted ball may come at you while attending a game. You should always be prepared to protect yourself.
*Clarence Dietrick Stagemyer was the son of Charles and Annie Stagemyer of York, PA. Clarence was laid to rest at Greenmount Cemetery in York, PA.
http://www.retrosheet.org/boxesetc/1943/B09291WS11943.htm