SHORT STILL STINKS!!!
September 30. 1971
In front of 14,460 fans the Washington Senators outscored the New York Yankees 7-5 and lose the final game the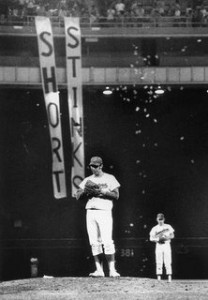 team will play at RFK stadium. The Yankees win this game by forfeit as Senators' fans show Robert Short how they really feel about his decision to move the team to Texas. The game was called in the top of the ninth inning as fans ran onto the field and grabbed whatever they could get their hands on.
I was not at this game but I do remember it very clearly as it was the worst day in D.C. baseball history for many Senators fans. If you would like to read more about this sad day in Washington D.C baseball history, I recommend that you read the article that Washington Post published the next day titled Rowdy Fans Hand Senators Final Loss .
It was 36-years later on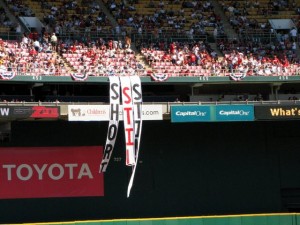 September 23, 2007, during the Washington Nationals last game at RFK stadium some fans in upper deck out in left-field made it very clear that some feelings do not fade over time. During the middle of the game they unfurled three banners that read SHORT STILL STINKS.
The crowd at the ballpark showed their approval with a lot of cheering. I remember I tapped my father on his shoulder and pointed out the banners to him. We both smiled and started to cheer. I heard the security guards at the stadium were not smiling and they showed the fans they did not approve of the banners as they pulled them up very quickly. The Nats went on to win the game over the Phillies 5-3 in front of 40,519 fans.