The 1933 Senators – Game 5 of the 1933 World Series (Part 7)
The hopes of a World Championship in the 1933 dream season of the Washington Senators appeared to be over. The Giants took a 3-0 lead in Game Five, and they sent General Crowder to the showers after 5 1/3 innings. With a runner on second, only one out, and with the Giants threatened to p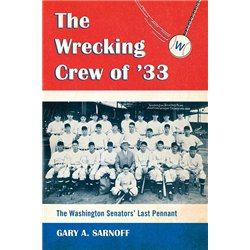 ut the game away, Jack Russell entered the game. The Washington relief specialist came through by striking out the next two batters on seven pitches to end the inning.
The Washington batters were having little success against Giants pitcher Hal Schumacher. Myer and Goslin were routine outs to begin the bottom of the sixth. Manush kept the inning alive with a base hit, only his second of the series. Cronin followed with a single to put runners at the corners.
Fred Schulte came to the plate, and he drove the first pitch deep to leftfield. Jo-Jo Moore raced back to the base of the temporary bleachers and watched the ball land in the crowd. The game was now tied, 3-3, and after Schulte crossed home plate, he trotted to the jubilant home team dugout where is teammates mobbed him.
After Kuhel and Bluege made it five hits in the inning with back-to-back infield hits, Bill Terry called on his relief specialist, forty-three year-old Dolph Luque, who ended the inning by inducing Luke Sewell to ground out.
The bats became quiet in the last three innings for both teams. After Myer grounded out to end the ninth-inning Game Five headed into overtime. With two outs in the top of the tenth, Mel Ott lifted his right foot high into the air and strode into the pitch with all his might. The ball traveled high and far to centerfield. Fred Schulte turned and sprinted toward the temporary bleachers, then leaped, was able to get his glove on the ball as his ankles hit the rail causing him to topple into the seats.
Cronin watched Schulte's gallant effort, and he saw the ball roll up the aisle steps as the Washington centerfielder disappeared into the bleachers- all except for his legs which frapped over the outfield wall. "Ground rule double!" Cronin shouted, which seemed to convince the umpire to rule the play in his favor.
As a few policemen and teammates ran to aide Schulte, Bill Terry stormed onto the field to argue the umpire's ruling. When Schulte finally reappeared, and limped back to his position, the umpires had a verdict: Home Run.
While Ott trotted home, Cronin argued his case to no avail.
Washington had one last chance in the bottom of the tenth. With two outs, Cronin singled to keep the comeback hope alive, and Schulte drew a pass. But the momentum stopped there. Luque whiffed Kuhel on three pitches to end the game. New York had defeated Washington to become the World Champions of the 1933 baseball season.
Gary is the author of The Wrecking Crew of '33; The Washington Senators' Last Pennant.