This Date in Washington Senators History – Happy Birthday Lee Maye
December 11
Senators Birthdays
Merrill Russell (Merl) Combs B Dec. 11, 1919 D Jul. 8, 1981
Signed by the Boston Red Sox before the start of the 1941 season, infielder Merl Combs would finally make it to the major leagues in September of 1947. Playing in 17 games that year, Combs would hit .221 in 17 games for the BoSox.
Out of the majors in 1948 Combs would return for another 14 games with Boston in 1949, his batting average dropping to .208.
After 1 game with the Red Sox in 1950, Combs, along with Tommy O'Brien, was traded to the Washington Senators for Clyde Vollmer. Combs would finish the 1950 season with Washington, hitting .245 in 37 games.
Sent to the St. Louis Browns before the 1951 season, Combs would never suit up with the Browns, being traded again to the Cleveland Indians. Another 2 seasons in Cleveland, where his hitting was below the .180 mark, would finish Combs' career, his last game coming in late September of 1952.
Arthur Lee Maye B Dec. 11, 1934 D Jul. 17, 2002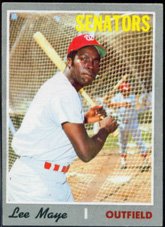 Signed by the Milwaukee Braves in 1954, Lee Maye would make it to the majors in mid-July of 1959, hitting .300 in 51 games during his rookie campaign. Maye would remain a regular in the Braves lineup through May of 1965 when he was traded to the Houston Astros. One of his best seasons in Milwaukee would be 1964 when he'd hit .304 in 153 games with 44 doubles, 5 triples, 10 home runs and 74 RBI.
Spending the remainder of 1965 and 1966 in Houston, Maye would be on the move again, this time to Cleveland, before the start of the 1967 season. Maye would remain in an Indians uniform through mid-June of 1969 when he was traded yet again, this time to the Washington Senators, for Bill Denehy and cash.
Maye would hit .290 for the Senators in 71 games in 1969 and .263 in 1970 before being released in mid-September. He'd be picked up on waivers by the Chicago White Sox, playing in 6 games for Chicago in 1970 and another 32 games in 1971, getting his final release in late June.