Senators and Dodgers announce blockbuster trade
December 4, 1964
It is announced at the 1964 Baseball Winter Meetings that the Washington Senators and the Los Angeles Dodgers made a seven player blockbuster trade. It is announced that the Washington Senators traded 25 year old pitcher Claude Osteen and 23 year old shortstop John Kennedy for the following players, 28 year old power hitter and outfielder Frank Howard, 22 year old third baseman Ken McMullen, 25 year old pitcher Phil Ortega, 25 year old pitcher Pete Richert, 25 year old first baseman Dick Nen.
The Dodgers benefited right away with the addition of Claude Osteen to the Dodgers starting pitching staff. Osteen was joining a very talented staff of Don Drysdale, Sandy Koufax and Johnny Podres. The Dodgers went from winning 80 games in 1964 to winning 97 games in 1965 as they went on to beat the Minnesota Twins "the old Senators" four games to three in the World Series.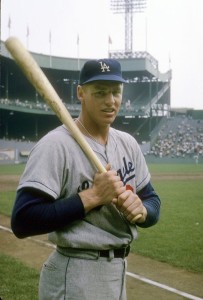 The Washington Senators improved also just not in the same dramatic fashion as the Dodgers. The Senators went on to win 70 games in 1965 that was up from the 62 games the team won in 1964. Frank Howard led the '65 Senators with 21 home runs and 84 RBI's and was named American League Comeback Player of the Year.
Even though the Senators will not go on to win the World Series with the addition of Frank Howard the team still benefited a great deal with him on the team. Frank Howard with his tremendous homeruns became fan favorite right away in the Nation's Capital. It wasn't long before Howard was given nicknames such as The Capital Punisher, Hondo, and The Gentle Giant.
During his seven seasons Howard became a local legend. While playing in Washington, Howard made the American League All Star Team four consecutive years from 1968-1971. Howard, led the American League in Home Runs in 1968 and 1970.