Little Albie Named '58 Top Rookie
January 7, 1959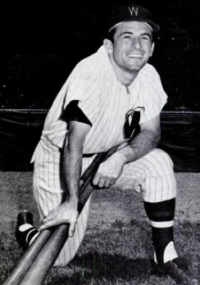 The AP reported that Little Albie Pearson of the Washington Senators was named American League 1958 rookie of the year by an overwhelming margin. The Senators' 23 year-old center fielder ended the '58 season with a .275 batting average he also hit 25 doubles and 5 triples in 530 at bats.
For Pearson who was one of the smallest players at 5 feet 6 inches and 160 pounds in the major's received 14 of 24 votes from the Baseball Writers Association of America. The New York Yankees relief specialist Ryne Duren received 7 votes. Gary Bell, starting pitcher of the Cleveland Indians received 3 votes. The voting was by three baseball writers in each of the eight American League cities
For Pearson the 1959 season was a very difficult season as Little Albie was only hitting .188 over the first 25 games with no home runs and only 2 RBI, he was traded to the Baltimore Orioles for center fielder Lenny Green.