No raise for Hondo
After belting 36 home runs for the Senators in 1967, Frank Howard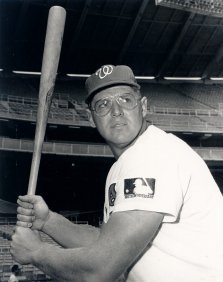 found himself spending most of the off-season negotiating a new contract with Senators' General Manager George Selkirk.
The Washington Post reported on January 9, 1968 that Senators' GM Selkirk told Howard that he will not be receiving a raise in 1968. In early February Howard informs Selkirk that he believes he should make $50,000. Selkirk is not prepared to pay Howard $50,000.
On February 25, 1968 Frank Howard rejects an offer of $45,000 from the Senators and tells Selkirk that he is prepared to sit out the season. On March 4, 1968 at Pompano Beach Florida the Senators announce that Frank Howard became the highest paid Senator in Washington baseball history when he agreed to a $49,000 contract.
It wasn't long into the '68 season the Senators found out a happy Frank Howard was a very productive Frank Howard. *From May 12 to May 18, Frank will hit 10 home runs in only 20 at bats in a six game span. That feat is still a Major League record. Frank will end up hitting 15 home runs in May.
In early July, Frank Howard with 25 home runs was selected to be one of the starting outfielders to represent the American League in the annual Major League All Star game. This will be the first of four consecutive All Star games that Howard will play in.
Frank doesn't falter in the second half of the season as he hits another 19 home runs and ends the season with 44 home runs outpacing both Willie Horton and Willie McCovey who both hit 36 home runs to become 1968 Major League Home Run Champion. Besides winning the Home Run Crown Frank led the Major League in Slugging Percentage (.552) and Extra-Base Hits (75) and Total Bases (330).
Quick Fact
Frank Howard led all Major League players in Home Runs from 1967 to 1971.
1, Frank Howard – 198
2, Hank Aaron – 197
3, Harmon Killebrew – 179
4, Willie McCovey – 169
5, Carl Yastrzemski – 162