Roy Sievers turns down contract offer
On February 8, 1958 the UP reported that Washington Senators' slugger Roy Sievers, who last se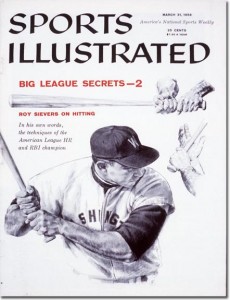 ason led the American League in home runs and RBI's while hitting .301, said today he wants a 100 percent increase in salary for the 1958 season. The 31-year-old outfielder said he had returned an unsigned contract to club President Calvin Griffith which called for 58 percent raise to $28,000; Sievers got $18,000 last year.
On February 28, 1958 the AP reports that Roy Sievers accepted the highest salary offer ever made by the Washington Senators. The Senators offer of $36,000 was exactly what Sievers was asking for and the St. Louis native agreed to terms in a phone conversation with Calvin Griffith.
Roy Sievers will go onto earn his money during the '58 season as he belts another 39 home runs while driving in 108 runs and hitting .295 for the season. Click here to see the Roy Sievers story in Sports Illustrated, story stats on page 38.