Get Out & Go Tours
Get Out & Go Tours offers a range of active tours for active people, from short and easy cycling tours to longer,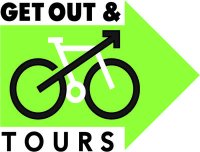 more challenging ones, providing something for all levels of riders. For those who prefer shorter tours, we provide 1 day introductory tours on the C&O Canal National Historical Park towpath, in the Washington DC area, and for a full experience, join us on a 5 to 8 day C&O – GAP tour between Pittsburgh, PA and Washington, DC.
Join our mailing list and learn about the Canal through newsletter articles, and be alerted to our upcoming tours, and events, keep up to date on our company progress, and then join us for a tour through some of the most beautiful scenery on the East Coast, free of auto traffic, and anchored by two premier cultural and key historical cities.
New in 2009 was Tour of the Virginias, a 7 day tour that covers up to 7 of Virginia and West Virginia's best Rail Trails, and rides the Cass Scenic Railway to the top of Spruce Knob, where you can bike down the mountain.
New in 2011 is a Loudoun County wineries tour, currently in development.
Expanded in 2011 are bicycle rentals — see our rentals page for details on road, mountain, hybrid, comfort, kids, and trail-a-bikes, trailers, and camping gear. We are located in Ashburn, Virginia, with bike rentals convenient to Leesburg, Ashburn, Sterling, Herndon, Reston, Great Falls, and for those riding the C&O Canal, whether nearby, or end-to-end. Ride the W&OD Trail, C&O Canal, or some of the off-road MTB trails. On business travel? Let us know your hotel, and we'll arrange for a bike during your stay.
Testimonials
"The cue sheet was super; thorough and historical" – Ron H., Virginia
"The trip was very well organized. The support team knew the trail and access points very well, and took care of all the logistical items. I'll definitely come back." – Gail M., Virginia
"Tom Knoerzer is the hardest working person in the bike tour business…" – Lee T., Pennsylvania
"Year after year, I never tire of this trail, and with Get Out & Go Tours, all of the logistics are taken care of, so all I have to do is show up, ride my bike, and enjoy." — Jason R., Connecticut
"Every ten to twenty miles, we were met by our tour guide, Tom from "Get Out and Go Tours." At every stop he had set out juices, energy bars, cookies, fruit, candy, water, and gatorade. At lunch, he provided all the makings for a picnic lunch. By far, this was the most attentive tour company with whom we have ever traveled." — Jan J's blog, Springfield, VA
"Our C&O Canal Sampler corporate tour was great! GOTours did all the planning, provided a superb lunch, had a great cue sheet, and made sure every single participant was well cared for. We will definitely repeat our corporate event again." — Ross D., Reston, VA
"Just wanted to thank you for the use of your bikes. We absolutely loved our ride – probably the highlight of our trip. Couldn't have done it without your business. Thanks!" — Jon & Megan Rowe, Phoenix, AZ
http://www.getoutandgo.biz/index.html